COVID-19 and Digital Marketing: What Should Marketers Do?
May 15, 2020
Using Pay Per Click (PPC) Ads to Your Advantage as a Small Business
June 25, 2020
How to Get More Conversions on Your Website
Websites today are no longer just online billboards and information centers. They are the engine that drives the train for all of your online marketing strategies. Where you implement your SEO Marketing and Link Building Services, and where you send leads from those PPC advertising campaigns. Your website is the one place where you can control the narrative about you and your business, and more importantly it can become the largest stream of revenue for your business. You can turn your website into your #1 sales rep, driving leads 24/7 while you run your day-to-day business.
If you are hoping to generate qualified leads and sales from your website, you should have two objectives:
To drive as much traffic as possible to the site and create awareness about who you are and what you do
To engage that traffic and weed out quality, targeted leads from those who need your products or services
Driving traffic to your website isn't always easy. Especially when you are hoping for quality traffic from a target audience. Turning them into conversions however, is the final, and toughest step to generating revenue. It's why less than 20% of all businesses are happy with their conversion rates, and why you need to make Conversion Rate Optimization (CRO) a major part of your digital marketing strategy.
Website Conversion Rate Optimization
At 828 we like to take basic CRO a bit further with our CRO Web Design process. We want to understand the 'WHY' behind the data so we can implement conversion optimization techniques and an action plan that allows us to optimize your website's functionality and improve your ROI.
To do this we need to understand:
What are the drivers that brought the user to the website or page in the first place?
What are the barriers preventing them from taking action at this point?
What are the specific hooks that will help them overcome those barriers and take action?
By being empathetic to our visitors, and looking at things from their perspective, we can better understand their intentions. Understanding these different visitors gives us better insight so we can show the right content and the right call-to-action at the right time during their journey. We like to use tools like HotJar to identify user experience issues and to learn as much as we can about their concerns and hesitations so we can deliver solutions that address them.
How to Get More Website Conversions
Here are three simple website conversion optimization tips that will help you convert more website visitors and turn that hard-earned traffic into quality leads!
Find Your Target Audience
You'll be spending time and resources in vain if you are promoting your website to the wrong audience. Online marketing has evolved to the point where you can find your target market much more easily than in the past. Find those people who are most likely to need your service. You have better chances of getting visitors into your conversion funnel if the people visiting your website are potential clients from the beginning.
Focusing on the right users, (we call them Avatars), will also help your website avoid bounces. Bouncing is when a visitor leaves your website seconds after landing on it. That happens when they come expecting one thing, and get another. A targeted lead is going to come because of the potential that you can solve a problem they have, or give them something they want or need.
SEO Copywriting
Writing good SEO copy is a key part of any website, especially if you are hoping to get and keep qualified traffic and leads. Your copy is going to let them know very quickly whether or not you can help them. It needs to appeal to your potential customers, and clearly show how or why it helps them solve a specific problem.
While you want to write copy for people, you need to optimize it for search engines. Too many people do one or the other, and as a result lose out altogether. You can't write for search engines and hope people convert from it. No one wants to read about, "Plumbers who can help improve your plumbing by fixing your plumbing issues." You do however want the search engines to have a clear idea about your topic and the purpose of the page.
A copywriter is someone who understands people, knows what his audience likes and chooses the right combination of words that will appeal to them. You may want to consider outsourcing to a good copywriter. It's that important.
The copy on your website should do the following:
It should make your offer very clear to the visitor. The visitor should be able to understand your product or service immediately after landing on your website. If they are left guessing, they are likely to bounce.
The copy should convince the visitor that your product or service is the best choice. You probably have a lot of competitors out there, and the visitor will need a reason to choose you over the others.
Your copy should appeal to the emotions and beliefs of your target audience. Find a way to connect emotions with your product or service. You always have better chances of converting someone you have connected with.
Conversion Tracking using Analytics
It doesn't matter how good your website is if you're asking the wrong people to do the wrong thing at the wrong time. If you want to be successful in optimizing your website for lead generation, you need to monitor your analytics. In fact you want to study them. They will give you a clear picture of how your pages are performing and where the problems are. All of those assumptions you started with when you defined your target audience can now be confirmed. You can tell exactly who your visitors are, where they come from, what they do when they get to your site, etc. Learn what their conversion path is, (or isn't).
Using analytics for conversion tracking you will be able to evaluate the effectiveness of your conversion rate optimization and maximize your return on investment. You are going to turn numbers into meaningful decisions. This data becomes actionable intel that you are going to use to grow your business!
Using the Right CRO Tools
If you are going to implement the above conversion rate optimization tips you are going to need the right CRO tools. From free tools like Google Analytics and Google PageSpeed, to paid tools such as Hotjar, knowing what tools to use as you analyze your website will help you transform your business and help you convert more web visitors into leads and buying customers.
The team at Conversion Rate Experts put the below infographic together along with a useful guide to help you dig deeper:
Tools for UX and CRO: The Ultimate Guide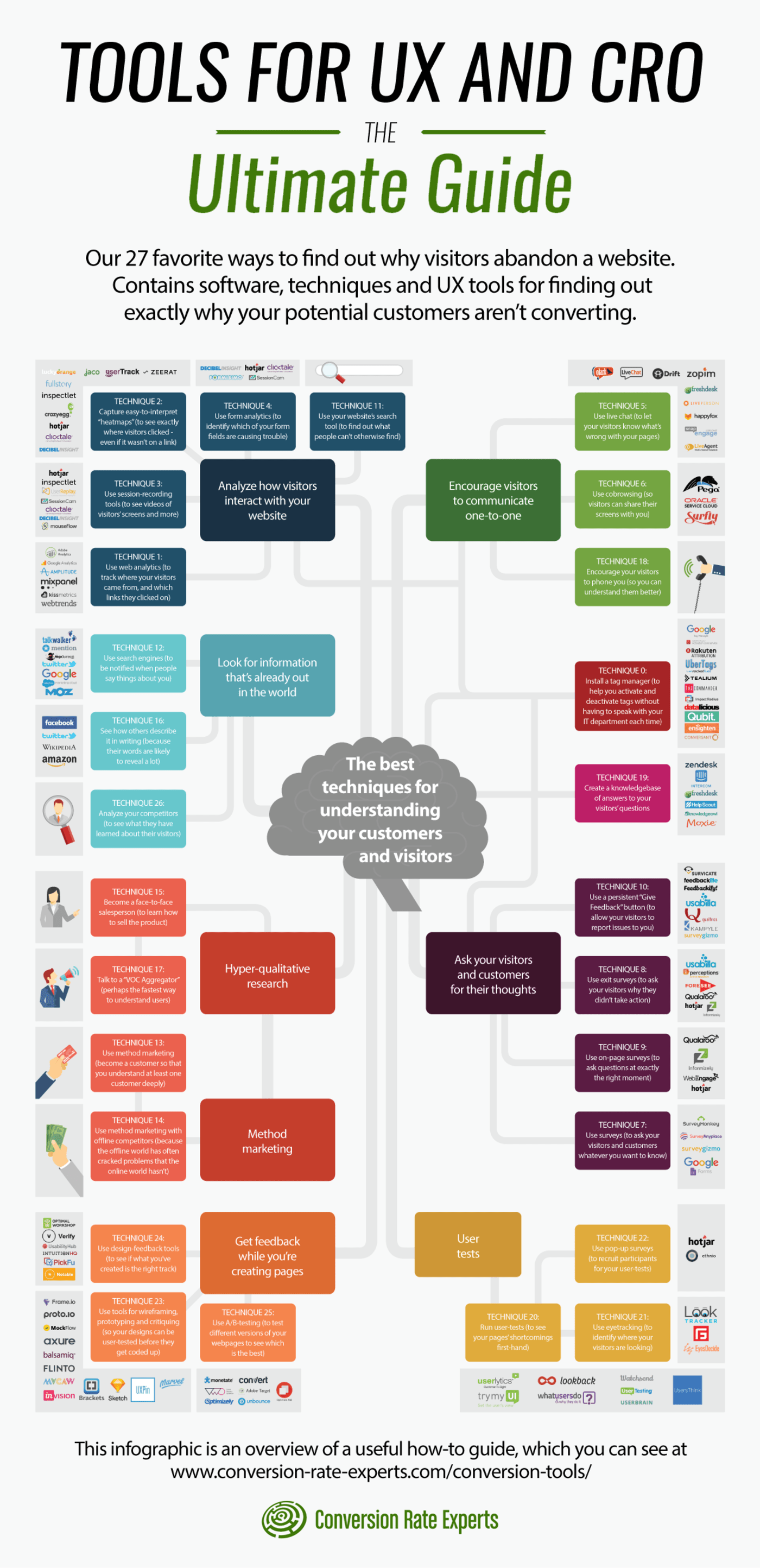 Enlarge this image
by clicking on it.